Watch Vamers Play Cadbury's Friends in a Fishtank and Win a R1000 Raru Voucher [#BubblyFun]
Cadbury's Dairy Milk Bubbly is not new. After launching with a highly successful bovine floating campaign in 2012, the chocolate quickly became a firm fan favourite. What is new, however, is 'Friends in a Fishtank'. Cadbury's very first venture into the realm of video games.
Cadbury is most well known for allowing consumers to float away from the stresses of life with just a little bubble, or three, of sweet sugary ecstasy. As such, it was a very pleasant surprise to learn that the South African arm of the British confectionary maker has delved into video game development for its latest advertising campaign.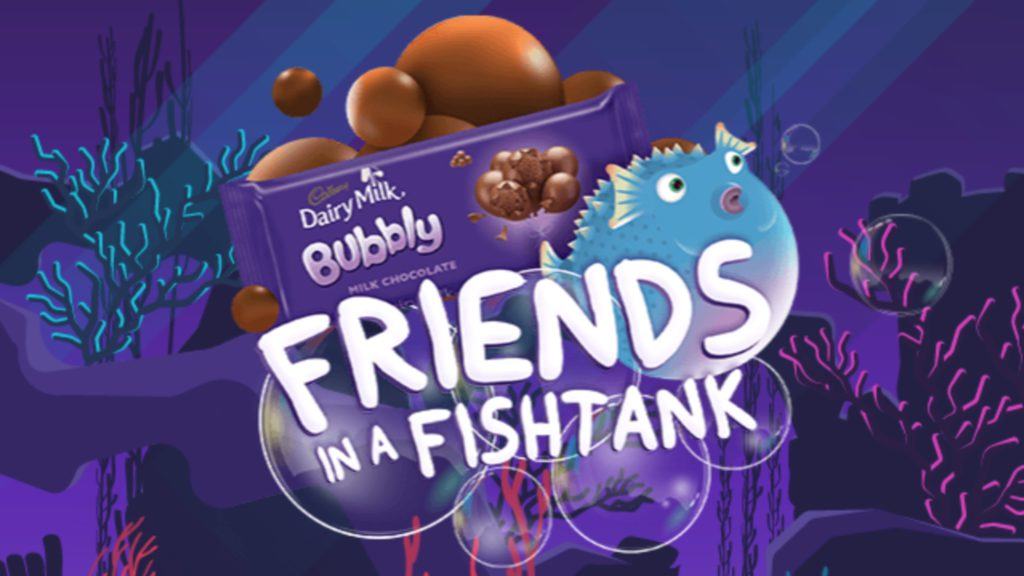 Titled 'Friends in a Fishtank', Cadbury's game is a surprisingly good and fun way to kill spare time. The game essentially follows the life of a puffer fish named 'Puffy' (that is the name the Vamers Crew gave him) whose sole purpose in life is to reach the delicious bar of Cadbury Dairy Milk Bubbly at his journey's end.
Since Puffy no doubt eats Bubbly, he is prone to floating. As such, players must keep Puffy from floating away. This is done by tapping the screen/clicking the mouse repetitively, causing Puffy to beat his tiny little fins. The gameplay mechanic is a derivative of the infamous 'Flappy Bird', and is therefore simple enough for anyone to pick up and play.
Just like real life, Puffy has his work cut out for him if he wants to reach his goal. The game is filled with hazards like explosive mines, pincer happy crabs, ugly-cry stinging jellyfish and chocolate-less bubbles of air. It is your job to keep Puffy alive long enough to reach his own bar of Cadbury Dairy Milk Bubbly.
Interestingly, 'Friends in a Fishtank' even has a bit of an online mode. So you can challenge your friends, no matter where they are in the world. Playing online is simple. One player acts as the host, and then simply distributes the uniquely generated game code to the other players. Voila. You and your friends can now journey together towards the centre of the universe delicious Cadbury Dairy Milk Bubbly.
Although the game can be played online, the Vamers Crew decided to play the game the old fashioned way, together and in teams. To make things even more interesting, we did so blindfolded. You should definitely check out our antics in the YouTube video embedded further below… especially if you are interesting in winning a R1000 voucher from Raru.
That's right Vamerites, the good people over at Cadbury have also given us a R1000 Raru voucher to giveaway to one lucky reader. However, we are literally and figuratively sweetening the pot even further.
We have two prizes up for grabs, a first and a second prize.
First prize: R1000 Raru voucher and four (4) bars of Cadbury Dairy Milk Bubbly.
Second prize: R250 Vamers Store voucher and two (2) bars of Cadbury Dairy Milk Bubbly.
There are two steps required in order to stand a chance to win, both of which are detailed below.
HOW TO ENTER:
Entering our competition is quite easy and a good amount of fun. Just follow the steps below, and you will be good to go!
Step 1:
Watch our 'The Vamers Crew Plays Cadbury's Friends in a Fishtank' video and answer the following question:
How many Cadbury Dairy Milk Bubbly chocolate bars are hidden in the Vamers Studio? 
Watch the video very carefully for the answer. Hint: more than 4, less than 10.
Step 2:
Play the Cadbury Dairy Milk Bubbly Friends in a Fishtank game and take a screenshot of your highest score from one single gameplay session (from start to either dying or making it to the end). The game can be played from either a desktop or mobile browser. Follow this link and have fun.
Step 3:
Fill out the form below with your answer from Step 1 and your high score from Step 2 (you will need to upload the screen capture of your score). Both steps need to be completed for your entry to be valid.
Bonus Step:
Please share this post on social media to help spread the chocolatey joy of Friends in a Fishtank (the more you share, the better our competitions may become – Hello more awesome sponsors, like Cadbury)!
---
ENTRY FORM:
[COMPETITION CLOSED]
---
TAKE NOTE:
The Win With Vamers 'Cadbury Bubbly' competition closes on Friday the 23rd of September 2016 at 17:00. So please make sure to get your entries in before then.
Good luck and, most importantly, have fun!
View Competition Terms and Conditions
WIN WITH VAMERS COMPETITION TERMS AND CONDITIONS
The Win With Vamers 'Cadbury Bubbly' competition closes at 17:00 on Friday the 23rd of September 2016. The person who provides the best submission, as judged by the Vamers staff, and who follows the competition instructions properly will be declared the winner of this competition. The judges' decision is final and no correspondence will be entered into. The winner will be announced at Vamers discretion after the competition closes. Vamers will endeavour to deliver the prize within 2-8 weeks as described, however, cannot accept responsibility if the prize differs from advertisement in presentation or value. This competition is only open to residents of South Africa. Entrants under 18 years of age must seek permission from a parent or guardian before entering this competition. Entrants must be over 16 years of age or have parental consent to enter this competition. The main prize consists of: one (1) voucher to the value of R1000 for Raru.co.za and four (4) bars of Cadbury Dairy Milk Bubbly. The runner-up prize consists of: one (1) voucher to the value of R250 for VamersStore.com and four (4) bars of Cadbury Dairy Milk Bubbly. There is no cash or prize alternative and all prizes are non-transferable. Only one grand prize winner per competition unless otherwise specified. Entrants are free to enter as many of the other competitions as they would like, however only one entry per person will be accepted in each competition. Winners use and accept prizes at their own risk. Vamers and the prize sponsors, if any, cannot be held responsible for any injury, accident or loss of property as a result of accepting and/or using the prize. Winners who do not claim the respective prize winnings within 7-days of being declared a winner will forfeit the prize to Vamers. By entering this competition, entrants acknowledge that Vamers has the right to disclose any and all submitted information, whether personal in nature or not, for publication on radio, television, printed media, social media and other Internet publications. Entrance into this competition includes automatic subscription to the Vamers Store Newsletter. Vamers and the prize sponsors, if any, reserve the right to cancel the competition at any time and shall not be liable to entrants for any action whatsoever. Vamers reserves the right to alter competition rules or prizes at their own discretion. Alterations become effective immediately and entrants shall not have recourse against Vamers or the prize sponsors. This competition is not open to staff (or members of their immediate families) who may be associated with the Vamers website or prize sponsors.